It's hard to imagine saying "no" to Martin Scorsese. The Oscar-winning director of "The Departed," "Hugo," "GoodFellas" and more remains one of the most prolific filmmakers in the business, as fresh and energized now at 71 years old as he's ever been.
But Australian actress Margot Robbie nearly turned down the chance to work with Scorsese on "The Wolf of Wall Street," based on true-stories of fraud and crime on Wall Street in the 1980s. Robbie plays Naomi Lapaglia in the film, a role that requires no small amount of nudity — a fact that nearly drove Robbie away from the project.
She's worked with Richard Curtis and Martin Scorsese and has even slapped Leonardo DiCaprio round the face – but Margot Robbie still gets accosted by Karl Kennedy fans.

In the eyes of budding film stars, Margot Robbie is in an enviable position. "I must be hated by every actress," she announces, sipping on tea in a lavish London hotel suite. And she has a point – in the space of just two and a half years, the 23-year-old has gone from Neighbours regular to one of Tinseltown's ones to watch. She may only appear in Richard Curtis's About Time for "like, five minutes", but the blonde Aussie's next role sees her deep among the A-listers. From the moment Robbie was cast as the prime love interest in The Wolf of Wall Street – Martin Scorsese's hotly anticipated blockbuster featuring Leonardo DiCaprio and Jonah Hill – she became the envy of Hollywood.
"It was the best experience of my entire life," she recalls, brimming with excitement over the film that is sure to make her name. "It was the most insane script – I don't know how to prepare people for the movie they're going to see. Everyone involved was the best at what they do so creatively it was heaven." And there's the added bonus of playing opposite Leonardo DiCaprio, of course…
Australian actor Margot Robbie is about to hit the big time, starring in the new Richard Curtis romcom. But it's her next role, opposite Leonardo DiCaprio and directed by Martin Scorsese, that seems to have really got her excited.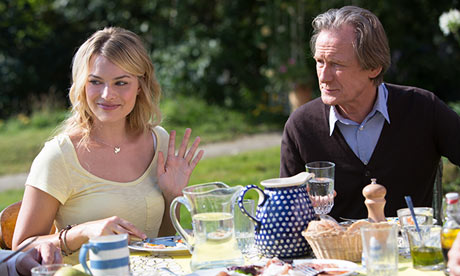 Margot Robbie is the most nearly-famous almost-star you've never heard of. At only 23 years old, the Australian actor has already been directed by Martin Scorsese and Richard Curtis and starred opposite Leonardo DiCaprio; a call from Woody Allen can't be far off. Next month she begins filming the caper comedy Focus, in which she'll star as a pickpocket who falls for a con artist played by Will Smith. Consequently, she has a lot to be excited about. So once she starts talking about the thrill of getting this callback while she was doing that read-through, or interrupting a backpacking holiday in Croatia with her brother to travel for 50 hours by plane, train and catamaran to an audition in New York, it's best to just to let her finish; it's also highly refreshing to find that she has not yet had the ebullience ground out of her by promotional duties.
Source: theculturemom.com
A few weeks ago, I was invited to tour the set of Pan Am, which airs on Sundays at 10 p.m. on ABC. I covered my interview with Christina Ricci a few days ago, and I'll be sharing more about my visit in the upcoming weeks ahead. While on the set, I also got to be a part of a group interview with Margot Robbie and Michael Mosley, two actors on the show. While I was not able to take a photo or video, pictures were taken for me and I'll be posting them soon.
Both actors were very forthcoming and clearly love being on the show. They are waiting to hear whether the show is going to be picked up for next year. I enjoy the show for it expresses and plays into my love of travel and seeing the world. While we're all waiting to hear, check out our interview.
Question: What have you learned about how it was for women at the time?
Margot: We did a lot of research. The main thing I try to remind myself is that it should be expected because that is the way it was. You shouldn't be shocked – that was the time period.
The whole feminist is similar to how we deal with the racism issue. Again, it was so prevalent. It was before the Civil Rights Movement so it was still the way society was. It is a fine line between playing the way the script is written and ignoring your contemporary views a little. It is an interesting aspect and I like that it is incorporated into the script. It's fun. It kind of makes us feel more, you know, more powerful as women because we are fighting against that stereotype. That's why the stewardess were going against the norm.
Question: Wasn't it better for men in those days?
Michael: I'm happy in 2012. The 1960s wasn't all happy. I mean, you watch a movie like the Help and it is so obvious that the world was not that happy. I mean learning about the brain drain, squeezed them out. One of the biggest perk is that we get to learn, an excuse to re-learn history.
Margot: It's not just based on America. Pan Am is a global airline. Especially, the Haiti episode, it really shows the global picture of the times.